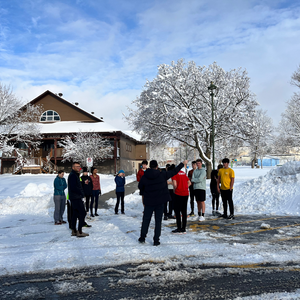 Great for U13/U14 athletes looking to take the next step in their canoe/kayak journey. This program is intended to be for athletes who would like to learn more about how to train for performance at a provincial, and eventually, national level. Goal setting sessions will be held for all athletes in this program. This program is also a great cross training opportunity for athletes looking to improve functional strength and fitness for other sports. Training sessions will take place at 6:00am or 2:45pm and Saturday mornings.
Functional Strength:

 Develop functional strength to improve athletic performance, training capacity, and injury prevention.

Fitness Enhancement:

 Enhance overall fitness levels, including endurance and speed, which are major components to excel in our sport.

Performance Development:

 Optimize performance through tailored training sessions and targeted exercises.
Training Approach:
 Training sessions will utilize a well-rounded approach to achieve these goals, incorporating various activities such as circuit training, swimming, running, yoga and functional and dynamic strength training. 
Importance of Winter Training:
 Winter training is a crucial component of long-term success in our sport. It provides athletes with the opportunity to:
Build a Solid Foundation:

 Lay the groundwork for future success by strengthening essential skills and attributes.

Maintain Fitness:

 Keep up with physical conditioning and avoid setbacks when transitioning back into competitive seasons.

Have Fun and Learn:

 Enjoy the training process in a supportive and knowledgeable environment that fosters growth and camaraderie
PROGRAM FEE: $505
PROGRAM DATES: November 6th, 2023 - April 27th, 2024

PLEASE NOTE: The CPCC will be closed through Christmas, and additionally for 1-2 weeks during Winter & Spring Training Camps
AGE GROUP:
Born 2011 or earlier
COMMITMENT:
4-5 training sessions per week