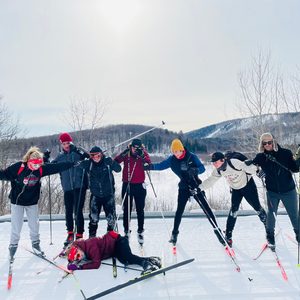 For athletes committed to training for performance at a provincial, national, and international level. Athletes in this program are expected to attend practice and work with a purpose. Goal setting sessions will be held with all athletes in this program to determine individual needs and plan for performance. Training sessions will take place at 6:00am or 2:45pm and Saturday mornings.
The program incorporates a variety of training activities to target sport-specific endurance, speed, and strength. These activities include weightlifting, circuit training, canoe/kayak ergometer, running, swimming, XC skiing, and stretching/yoga. This diversity helps athletes develop a well-rounded skill set and fitness level.
The program goes beyond physical training and includes components such as sport nutrition, goal setting, and sport psychology information sessions. These elements are vital for holistic athlete development and mental preparedness.
Athletes will follow a detailed yearly training plan (YTP). This indicates a structured, periodized approach to training, allowing for progressive improvement and peak performance during specific competition seasons.
Overall, this program combines a high training frequency, sport-specific training activities, and a focus on mental and nutritional aspects to provide athletes with a comprehensive and competitive training experience.
PROGRAM FEE:
$815
PROGRAM DATES:
November 6th, 2023 - April 27th, 2024
PLEASE NOTE: The CPCC will be closed through Christmas, and additionally for 1-2 weeks during Winter & Spring Training Camps
AGE GROUP:
Born 2009 or earlier
COMMITMENT:
7-10 training sessions per week